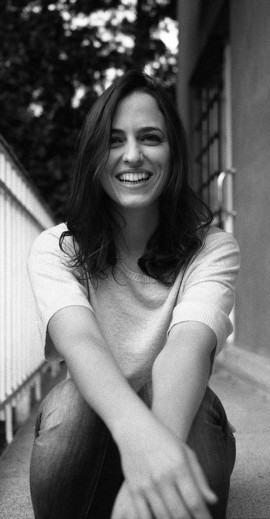 Photo: Anna Krieps
Biography
Born in Luxembourg in 1986, pianist FRANÇOISE TONTELING began playing piano at a very young age. She received her music education at the Conservatory of Luxembourg under the guidance of Béatrice Rauchs. Upon graduation she decided to dedicate her life to music and commenced piano studies at the Koninklijke Conservatory in Brussels with Daniel Blumenthal and Katia Veekmans. While there she also studied music writing and orchestration, playing the viola as well.
Her passion for improvisation was awakened during a two-year course with Kris Defoort. At this time, she also discovered classical Indian music and her fascination with oriental music grew stronger. Once she had obtained her Masters of Arts in Piano and her Bachelors in Music Writing, she began studying the basics of jazz piano under Nathalie Loriers. Her curiosity in human nature drove her to simultaneously undergo professional shiatsu training.
She has been teaching courses at the Luxembourg Conservatory since 2013. That same year Françoise, along with cellist Annemie Osborne and percussionist Michel Mootz, created Julia Goes Mercutio. One year later Danainii was born, a project combining improvisation and world music.
---
Née à Luxembourg en 1986, la pianiste FRANÇOISE TONTELING commence à jouer le piano dès son plus jeune âge. Elle reçoit sa formation au Conservatoire de la Ville de Luxembourg dans la classe de Béatrice Rauchs. Après son bac, elle décide de consacrer sa vie à la musique et commence ses études de piano au Koninklijke Conservatorium à Bruxelles chez Daniel Blumenthal et Katia Veekmans. Elle étudie également l'harmonie et l'orchestration et joue de l'alto. C'est dans le cours d'improvisation libre chez Kris Defoort, où s'éveille sa passion d'improviser, et c'est aussi pendant cette période qu'elle découvre pour la première fois la musique classique indienne et que sa fascination pour la musique orientale s'intensifie.
Après avoir reçu son « Master of Arts in Music » en piano ainsi que son « Bachelor » en écritures, elle commence à étudier les bases du piano jazz chez Nathalie Loriers. Parallèlement, sa curiosité dans la nature humaine l'amène à entamer une formation professionnelle en
Shiatsu. Depuis 2013 elle est chargée de cours au Conservatoire de la Ville de Luxembourg. En 2013 elle crée ensemble avec la violoncelliste Annemie Osborne et le percussionniste Michel Mootz le projet « Julia goes Mercutio ». En 2014 elle crée « Danainii », un projet regroupant musique improvisée et musique du monde.