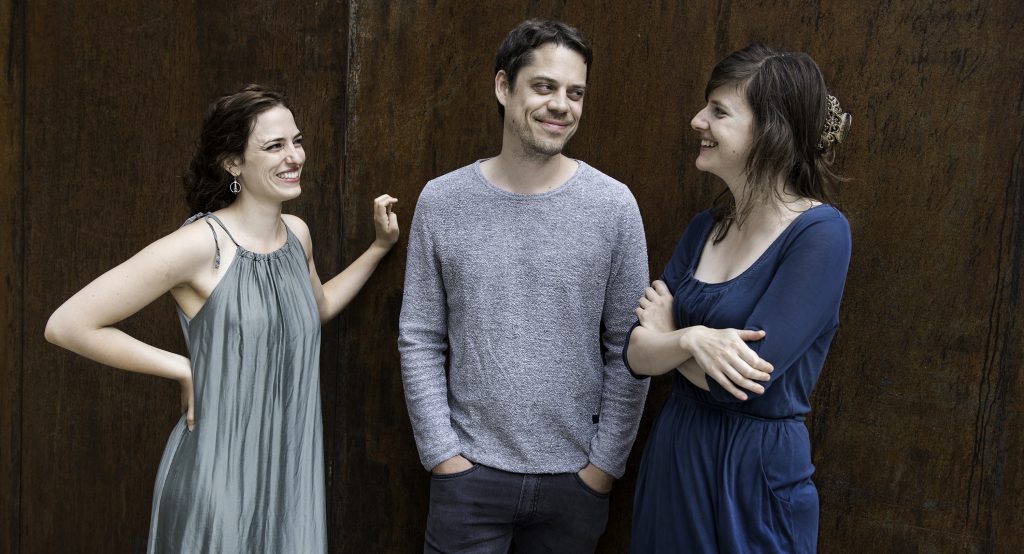 Julia goes Mercutio
Annemie Osborne (cello), Michel Mootz (percussion) and Françoise Tonteling (piano) are three Luxemburgers who share a passion for a variety of different music styles, from classical, to jazz, to world music.
They drew their inspiration for their musical project Julia Goes Mercutio from Serge Prokofiev's Romeo and Juliet, which they arranged for cello, piano and vibraphone. By combining classical and contemporary works, as well as original compositions and improvisations, they delivered a less traditional take on the classic love story through new and exceptional sounds that remain cohesive. The beautiful Julia adopts Mercutio's traits and becomes moody and unpredictable without ever losing her purity and loyalty.
---
Les trois musiciens luxembourgeois Annemie Osborne (violoncelle), Mootz (percussions) et Françoise Tonteling (piano) partagent une passion particulière pour des styles très variés, allant du classique et du jazz jusqu'à la musique du monde.
Pour le projet Julia Goes Mercutio, leur source d'inspiration a été l'œuvre "Roméo et Juliette" de Serge Prokofiev, qu'ils ont réarrangée pour violoncelle, piano et vibraphone. En l'associant à des œuvres classiques et contemporaines, des compositions originales et des improvisations, ils mettent en œuvre une "histoire d'amour moins classique", et une sonorité autant exceptionnelle que cohérente. La belle Juliette prend des airs de Mercutio, change inopinément d'humeur sans pour autant perdre de sa pureté et de sa fidélité.
---
Die drei Luxemburger Musiker Annemie Osborne (Cello), Mich Mootz (Schlagzeug), und Françoise Tonteling (Klavier) hegen eine besondere Liebe für sehr verschiedene Musikstile, von klassischer Musik über Jazz bis hin zur World Music.
In ihrem musikalischen Projekt Julia Goes Mercutio dient ihne Serge Prokofievs "Romeo & Julia" als roter Faden und Inspiration. Für Klavier, Cello und Vibraphon umarrangiert, verbinden sie dieses Werk mit diversen klassischen Stücken, mit zeitgenössischer Musik, mit Eigenkompositionen und Improvisationen. So entsteht ein neues, außergewöhnliches, aber dennoch kohärentes Klangbild – und damit auch eine ganz untypische, im wahrsten Sinne des Wortes weniger klassische "Liebesgeschichte". Die schöne Julia nimmt Züge von Mercutio an, ändert schnell und unvorhersehbar ihre Laune, allerdings ohne dabei an Gediegenheit und Treue einzubüßen.
Annemie Osborne: Cello
Mich Mootz: Vibraphone / Percussion
Françoise Tonteling: Piano